Care Services
Whatever your need, we care
Our care services are here to equip people for success.
We have several programs that help people reach their full potential mentally and physically.
Sick of being unemployed
We provide preparation for the workforce with free programs and traineeships under Skilling Queenslanders for Work funding. High employment outcomes and a vocational pathway for the career that you are meant to have. Eligibility requirements apply. Click here for more information
Struggling to make ends meet?
We can provide food assistance through our Emergency Relief program for people who are facing financial difficulty. Click here for more information.
Meeting with Mates (Men's Social)
Get Out & Get Back into It! Come along enjoy friendship & get together over a cuppa. We meet every Tuesday from 9am till 11am, at The Rivers Cafe.
Ladies Coffee Social Club
Feeling isolated? Come along to meet new friends and have fun. We meet every Tuesday from 10am till noon, at The Rivers Cafe.
Family Drug Support
Open meetings for family members affected by drugs and alcohol. Open to anyone and providing opportunities to talk and listen to others in a non-judgemental, safe environment. Click here for more information.
SPER
Work and development orders (WDO) People experiencing hardship may be able to resolve their State Penalties Enforcement Registry (SPER) debt through other activities. This can be done through a work and development order and may include: undertaking to volunteer for the Twin Rives Centre or training programs. The Twin Rivers Centre can help you apply for this WDO Click here
Looking for a cheap computer?
We refurbish and sell desktop computers. The computers are refurbished by a team of volunteers called "Up and Out" and sold for $50 - $100 (non profit- only to recover cost) to Health Care Card holders. There is a limited supply. Click here for more information.
Programs for the family!
Check out our programs and get connected into an encouraging network with mainly music for kids, Synergy Youth for high-schoolers and Young Adults for 18 years and older. Click here for more information.
Need someone to talk to?
Our staff are committed to helping you find the best possible solution for the barriers you may be facing, whether it is domestic violence, family issues or other concerns. We have professional counsellors to walk with you when you are feeling stuck. Click here for more information.
Dignity Program
Our Dignity First program supplies up to 350 nutritious warm meals to less fortunate families and the homeless. These meals are prepared onsite by volunteers and Hospitality students. We partner with local organisations including Nighlight, Second Bite and Twin Rivers Food Outlet. See photos below.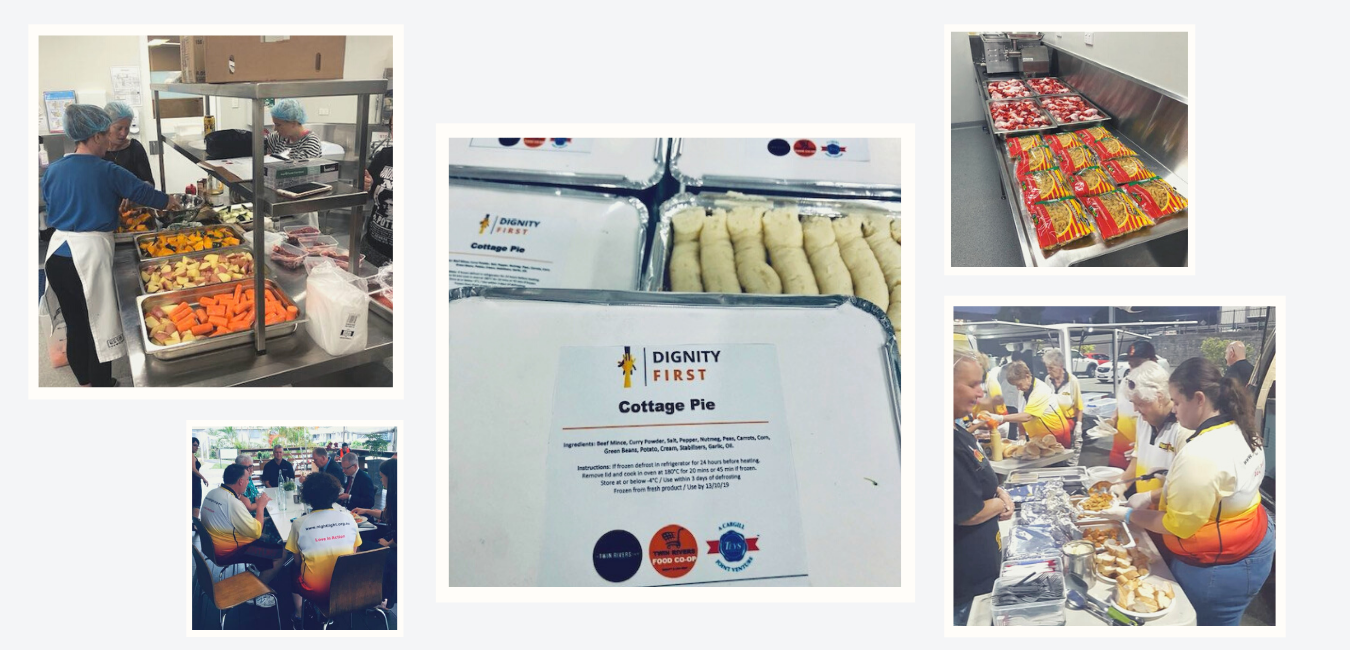 ______________________________________________________________________
Not sure what you are looking for? Use form below and we'll help however we can.