Scripture Union - School Chappies
School Chaplains are doing an amazing job at taking Jesus into our schools and
prayers are definitely needed for continued government support and that
our own missions giving will continue to assist with this essential task.
The Local School Chaplains of Beenleigh State School, Beenleigh State High School, Cedar Creek,
Eagleby, Eagleby South, Eden's Landing, Mt Warren Park, Windaroo Primary and Windaroo State High Schools greatly value the financial and personal support that Twin Rivers Church gives to them.
Chaplaincy finances are very tight due to the lack of funding. Chaplains serve our community with a heart of love and are very busy at this time of year helping children and families in distress and hardship. Our Chaplains often cannot share the blessing and help they are to people because of privacy and protective reasons.
We are so blessed that our own Pastor Reuben Roos continues to be the Chairperson of the Beenleigh Yatala Local School Chaplaincy Committee.
Leith continues her role supporting Chaplains at Scripture Union Primary Aged (SUPA) Clubs at Mt Warren Park and Cedar Creek State Schools. Also, Pastor Damian and Libbi Lawson help out along side Chappies in various roles at Eagleby State, Eagleby South State Schools & Beenleigh State High School.
Check out further what Scripture Union and our Chappies do at https://www.suqld.org.au/
Please pray for our Local School Chaplains and for continued financial support.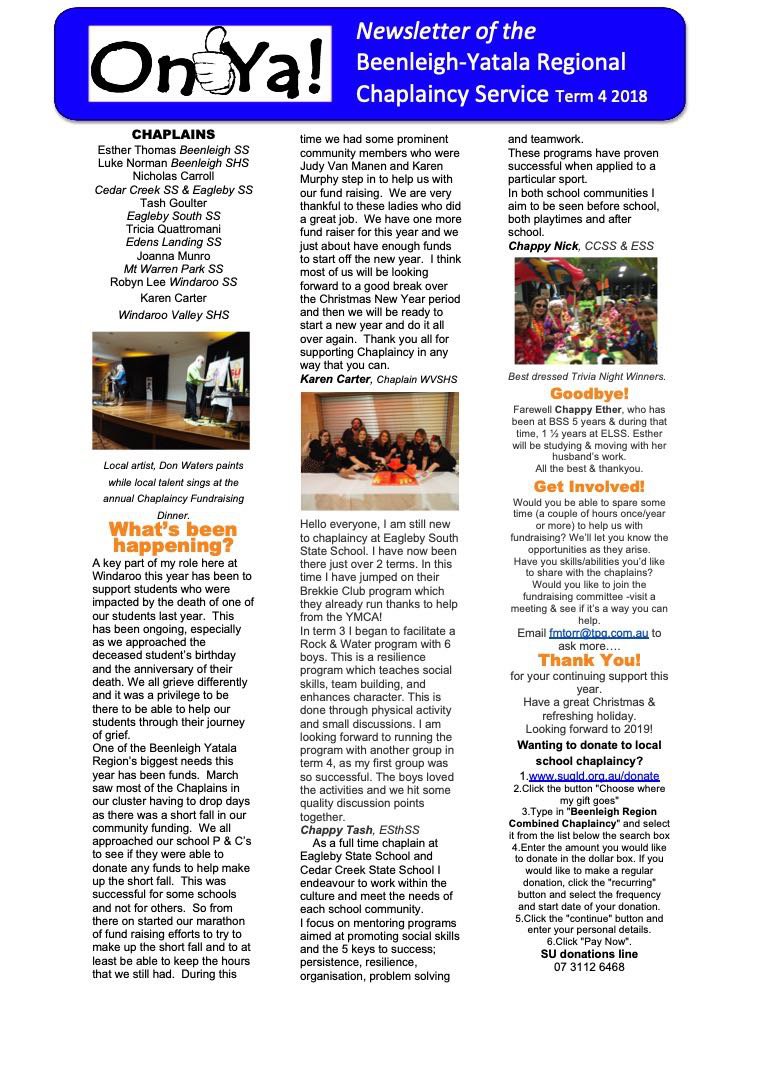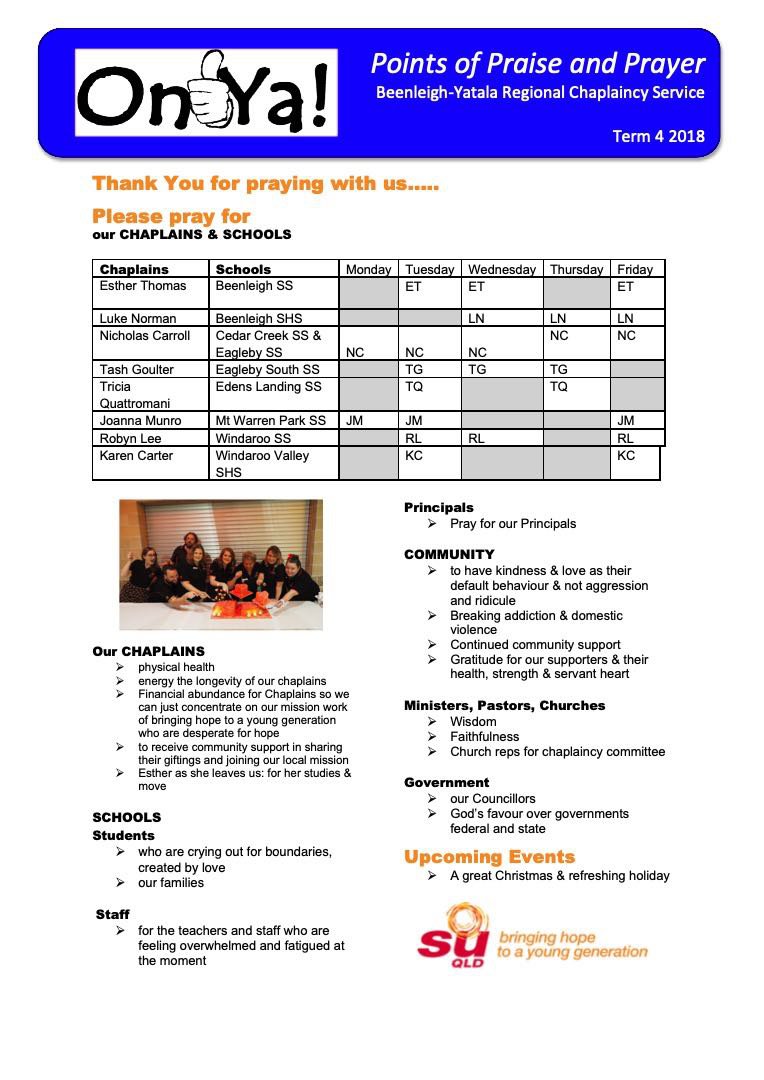 Word for Today
A daily reading that has proved to be a fantastic blessing to thousands of Christians in Australia. People often quote from the reading of the day. WORD FOR TODAY is printed quarterly and is available at church or you can subscribe by mail in Australia only.
Word for today is often quoted from pulpits and mentioned in every day conversation amongst Christians. A great start for the day, even though we may meditate daily on the Word of God. If we have slipped away from
our daily Bible reading then Word for today is a great way get started again. The Authors Bob and Debby Gass have been preaching and writing for many years and their daily reading comes highly recommended.
Grab your copy at church or you can sign up on line at thewordfortoday.org.au.
Pray that the publication will draw more people to hide the word of God in their hearts and that subscriber's will support financially.
Christians Against Poverty
CAP is working through churches across the country to help thousands of people clear their debt.
Nearly 70% of Australians are in debt and could do with some help.
Last year 1691 were helped by CAP. 8500 calls for help, 3500 attended
CAP money courses and last year 325 became completely debt free.
Aimee Mai from New Zealand has served as CEO of CAP Australia for the past 18 months and sadly returning home but not before welcoming the new CEO Rosie Kendall who comes with a wealth of experience.
She has 10 years experience with CAP both in the UK and in Australia. Twin Rivers wish her every success for 2018 and beyond. Poverty through bad money management or circumstances is epidemic and CAP most definitely need your prayers and support.
Pray for more churches to get involved.
For more information check out www.capaust.org
Alphacrusis College
This college was formerly National Bible college and now officially ACC. Many men and women pass through the college each year with good results and fired up to go out and preach the Gospel and win souls for Jesus.
Alphacrucis College is growing to accommodate the large number of young students that are entering into ACC ministry as pastors etc. Harvest Bible College and Alphacrucis College are joining forces, remaining under the name of Alphacrucis but still offering Harvest courses. This action is providing over 4000 student positions. Why not consider study from home or on site?
For more information check out www.ac.edu.au or www.harvest.edu.au
Please pray for the vision that Alphacrucis College will achieve University status.
Most Recent Update From Alphacrucis College:
Great News! A significant milestone was achieved in the last few months in our journey to become an Australian Christian university but before I get to that let me give some other achievements.
1. New Third Party Arrangements
In my last update I mentioned we are developing a number of third party arrangements with significant organisations in Australia and overseas. Since then they have been assessed by the government regulator (TEQSA) and we have now started offering our awards through the following two colleges.
i) Asia Pacific Theological Seminary (Baguio, Philippines) (APTS). This is our first higher education site in Asia! APTS will be delivering a number of AC's Business and Theology courses.
ii) National Institute for Christian Education (NICE). NICE has been training Christian teachers since 1979 and its parent body, Christian Education National, gives covering to around 70 Christian schools nationally. While I could list how this helps NICE I suggest you go to the following link to hear how NICE's Director describes the outcome. Our third party arrangement commenced with NICE on 26th November 2018.
http://newsletter.cen.edu.au/cen/article/a-word-from-our-institute-director-david-gray/
2. New Courses on Offer
We recently accredited four brand new courses in Education:
i) Master of Education
ii) Master of Education (Leadership)
iii) Graduate Certificate of Education
iv) Graduate Certificate of Education (Leadership)
These courses are very important to us, particularly as we work with NICE as a third party. Also these courses were CRICOS approved meaning we can offer them to international students.
3. Ok, the Great News and a Milestone
To understand the significance of the milestone we have just accomplished I need to build context first. To become a university in Australia requires four major application processes.
Stage 1: Become a Higher Education Provider (HEP): Achieved by AC in 2009.
Stage 2: Become a Self-Accrediting Authority (SAA): Achieved by AC in 2016.
Stage 3: Become a University College (UC)
Stage 4: Become a fully-fledged University.
The focus of the first two stages was intense regulatory checks on the teaching/training side of the college. This requires having highly qualified academic staff, three faculties offering all awards up to and including PhD's, and giving evidence of internal processes that adhere to the high standards of operation required of all universities in Australia.
We are now entering the last two stages which means the focus is on research and financial sustainability. Every Australian university must engage in high quality training and research.
To progress to stage 3 (University College), AC must submit its body of research across all three faculties for a quantity and quality assessment by an independent assessor. The goal is to achieve a rating of World Class Standard, according to the "Excellence in Research for Australia (ERA)"s ratings. This research also needs to demonstrate a positive impact on the broader Australian society. AC submitted about 550 pieces of research from the Theology Faculty (books, book chapters, journal articles, conference papers and other scholarship) for assessment in the early part of 2018.
In August 2018 we received word that the research of the Theology faculty had been assessed as
Above World Class Standard!
Furthermore, the independent moderator also determined that our close association with Chaplaincy Australia and Christian schools, as well as the international significance of our Australasian Pentecostal Studies Centre, all demonstrate that AC's research has a high level of community engagement and social responsibility. Our college with small beginnings in 1948 can hold its head high in the sphere of theological academia not only in Australia but also in the world.
This is a major achievement for AC and it means we have moved a step closer in our application to become a University College. With further continued financial investment and a focus on research in our Faculties of Education and Business, we will have those faculties assessed at world class standard or higher and make an application to become a University College in the later part of 2020.
While that last statement is a small paragraph of this report what's required to bring it to pass is monumental. I cannot stress how important it is to keep us in your prayers and especially your financial support is needed right now to help fund what is necessary to make our next application to be a university. 2020 is not that far away so between now and then we can't sit back and enjoy our current achievements but need to 'ramp up' our efforts in all areas to be ready for our 2020 application!
On behalf of Professor Stephen Fogarty, the College Council, staff and students of AC, I thank you for your continued financial support that not only resources us but also energises us to complete the task at hand.
Kind Regards
Neil Scott
Advancement Director: Alphacrucis College